The Dream-Quest of Unknown Kadath on Weird Wednesday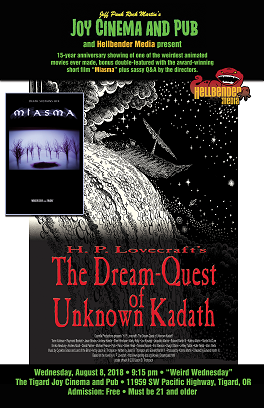 Hellbender Media and Jeff Punk Rock Martin team up to bring you a 15th anniversary of our first feature film "The Dream-Quest of Unknown Kadath," based on a turn-of-the-century fantasy novel by H. P. Lovecraft.
In addition, the show will start off with a bonus short movie, the award-winning "Miasma."
The directors of both films will be there to introduce the movies and stick around afterward for a bit for a Q&A, autographs, or arcane benedictions.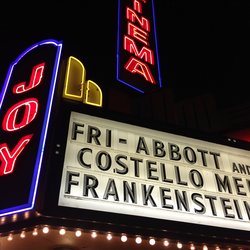 The Tigard Joy is a splendid restored retro theater in Tigard, OR, featuring second-run movies as well as weekly forays into the obscure and eclectic.
Hellbender Media is a HUGE fan of "Weird Wednesday" at the Joy Cinema and Pub, and we are very glad to be hosting a show there. We hope you will join us and bring friends, because theaters are why movies are made!
The best part: admission is FREE!
(We encourage you to visit the snack bar of course, and our souvenir/merch table, which helps us offset our costs, but there is no cost for the ticket itself.)