Shriekfest Radio Interview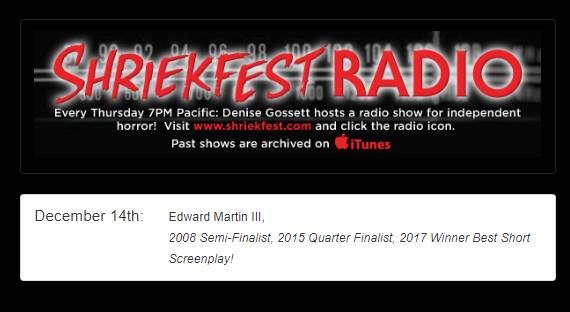 Writer/Director Edward Martin III is interviewed on Shriekfest Radio. Listen in to an hour of some of the most breathtaking, funny, and inspiring stuff this side of the Moon. Also available on iTunes.
In 2017, Edward's short script Dark Hour won Best Short Script at Shriekfest, and Festival Founder Denise Gossett asked if she could interview him on Shriekfest Radio. Being a writer and somewhat hermitty, he jumped at the chance. In a conversation ranging across multiple disciplines, Edward talks about what inspires him, what powers him, and how to keep from being distracted in a world designed to distract you. The hour flies by, and you'll wish for more from this hyperkinetic writer/filmmaker.