Edited by A.C. Hall and Phillip Hall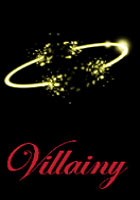 There is a darkness. People spend their lives trying to battle it, trying to stop it from overtaking them and their world. But this darkness is a weighty foe. It can sit upon the shoulders of a man and crush him. It can overwhelm his spirit and make him forget what the light looks like. It can take root in a person's heart, consume a place or a thing. It can materialize in thousands of ways.
Anger, jealousy, obsession, hatred, murder; villainy comes in all shapes and sizes. Within this anthology, villainy is a rival committing himself wholly to the act of bringing down the man he hates the most. It is a malevolent force that, once awoken, hungers for vengeance. It's a bandit who takes advantage of a lovestruck robber who will do anything to keep his lady living a life of luxury.
On these pages, villainy is a group of space pirates who value profit over the lives of slaves, it is a supervillain who wages a holy war against superheroes, it is lies, crimes, threats, and violence. It is a driving force, sometimes dark, sometimes less so, that propels individuals and sees them faced with the battle between good and evil.
Not everyone wins the fight but then again, not everyone aims to.
Villainy contains the story Love, She is Blind, reprinted from Close Your Eyes: Tales from the Blinkspace.