Edited by Caroline Dombrowski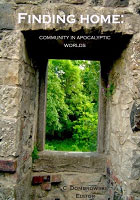 What happens after The End? As social animals, humans can only be traveling loners for so long; we naturally form communities. These eighteen post-apocalyptic tales focus on the phoenix, not the ashes. After the death of a world, you start to consider the things that really matter: transportation woes; seeking family; personal freedom, social conventions; defining love and hope; and making the best of new worlds.
This was a compilation of short stories. I loved some of them, and found some of them not as amazing, but they were all worth reading. – Goodreads review
Finding Home contains the story The Wheel, reprinted from Close Your Eyes: Tales from the Blinkspace.