Edited by Dusty Wallace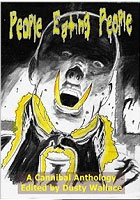 Come feast on a buffet of fiction. In these pages you'll find superheroes, fantasy, steampunk, corporate whistle-blowing, and a grandma passing down her 'secret family recipe.' Learn how to survive a famine. Haggle your way to better meat prices.
People Eating People will satisfy any reader's most ravenous fiction hunger.
People Eating People contains the story His Great Power, reprinted from Close Your Eyes: Tales from the Blinkspace.