Even demons need to cut loose…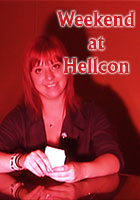 It's 2013 and we're back at Crypticon, the largest horror convention in the Pacific Northwest, for a third go of the Let's Make a Movie! workshop.
For reasons as yet unclear to us, the news didn't get out about the workshop (or maybe we were always scheduled against Nicholas Brendan), but it was a tricky go from the beginning. We never quite seemed to achieve the critical mass needed to easily slip into ideas and action. A few ideas that seemed promising came and went (one rather clever one depended on good weather, but as it turned out, we had no good weather this weekend), but finally, at the last minute, something grew that we could massage into a story!
Everyone knows about the major demons and devils, but few people are aware that there are a whole slew of minor demons, second-rate demons, if you will. The Demon of Forgetting What You Were About To Say, or the Demon of Hangnails, for example. These demons occasionally need to party hard and get a little love from Head Office, so Satan sets up a special weekend convention for them in Hell.
Unbeknownst to our demons, however, there's someone crashing the event with ulterior and mischievous motives…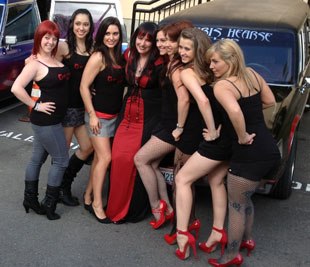 Special thanks to the Gravestone Girls of Gravestone Entertainment for taking time out of their own schedule to join us as cast for Weekend at Hellcon. They were fantastic and willing to jump right into whatever characters we needed.
Cast
Satan: Lissie Lewis
Ms. Friendly: Tarisa Ann
The Demon of Missing Laundry: Desiree Gaoiran
Missing Sock Victims: Edward Martin III, Fedora el Morro, Carol Daloia
The Demon of Unfulfilled Career Dreams: Camellia Sturm
The Demon of Premature Hair Loss: Dan Francisco
Hair Eating Demon: Jamie Singer
The Demon of Hangnails: Chelsea Hendrickson
The Demon of Forgetting What You Were About To Say: Brian Parr
The Demon of Anal Warts: Pat Crowley
Crew
Produced and Written by Edward Martin III and Ryan K. Johnson
Directed by Edward Martin III
Photographed and edited by Ryan K. Johnson
Music: Murray Gold