That which must not be spoken aloud.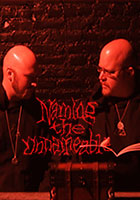 Hellbender Media teams up with Seattle International Films and flies all the way to the birthplace and soul of American author H. P. Lovecraft — Providence, Rhode Island! Seeing as how we're in Providence, and it's Lovecraft's birthday and we're at NecronomiCon, then why not make a Lovecraftian movie?
Why not indeed!
As with all workshops at a new convention, we approached this workshop carefully, not sure how many people would actually show up. We had nothing to fear, however. NecronomiCon showed us a ton of love and let lots of people know about the workshop. In fact, not only did they let everybody know, they even let us use probably the best venue ever for our workshop — the Black Box Theater. The Black Box was a small movie theater below, and two large (and arcanely decorated) meeting rooms above. It was perfect for our one-weekend makeshift studio. Correction — more than perfect!
As with most workshops, we wibbled and wobbled a bit, looking for a hook, and then finally, the idea of combining two ideas coalesced. On one hand, doing a "Nine Billion Names of God" nod, but also combining it with the notion that the worst part of a supernatural creature appearing in modern times would be putting up with the kind of idiocy that might be evident at, say, a focus group…
Thus was born Naming the Unnameable, wherein two intrepid cultists, in an effort to bring an end to all that ever was, is, and shall be, realize that they can't do it unless they can figure out the actual name of the unnameable demon they're trying to summon.
Nowadays, we do that with focus groups. The trouble is, of course, that if you thought end-of-the-world cultists were weird, wait until you find out who ends up on their focus groups!
Cast
Cultist #1: Uriah Brown
Cultist #2: Greg Bevelhymer
Ted: Guy Thomas
Scruffy: Keith Ward
Herb: Sam Hayes
Mike: Mark Pekar
Diana: Diana Painter
Everett: Chris Phillips
Carla: Feather Poirier
Ben: Harold Mikolaitis
Cindy: Kristine Beskin
Sam: Alex
Cheryl: Diana Rodriguez
Snuggler #1: David Hoard
Snuggler #2: ___________?
Fly: Buzzy Lazar IV
Crew
Produced by: Edward Martin III & Ryan K. Johnson
Director: Edward Martin III
Camera/Editor: Ryan K. Johnson
Sound: Edward Martin III
Lighting: Thomas Nicol
Production Assistant: Matt Black
Shemp: Mike Lynch
Shemp: Raymond Howard
Special Thanks: Niels Hobbs
Special Thanks: Scott Lefebvre
Special Thanks: Anthony "Teth" Garamia
Special Thanks: Ric Royer
Special Thanks: The City of Providence, Rhode Island
Special Thanks: The Black Box Theater
Shot on location in Providence, Rhode Island