Portrait of a minion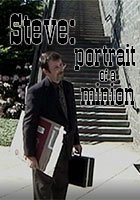 We return to Crypticon Seattle after a brief scheduling hiatus, and was it ever a fun time!
This year, a few people who were at our last workshop showed up again (yay!) including at least one person who had been a part of the workshop at Norwescon.
Crypticon presented an interesting challenge, because not only was it a horror convention, but this year, the Next Big Thing in horror was very, very splattery, and we have zero make-up and special effects supplies.
What started out as a sort of monster movie somehow morphed into something completely unexpected, and thus Steve: portrait of a minion was born.
In this moving documentary, we meet Steve, one of the last worshippers of Baal, as he makes his way through life trying to recruit more worshippers and also hunting down sacrifices. Steve's life is filled with trials, however, from people who simply think he's a panhandler, to issues as complex as trying to compete with a world that expects Hellboy.
His tale is told using slices-of-life from his recruiting day, and also during video interviews with Steve, as well as Steve's former wife (who believed that hooking up with a priest of Baal would jack up her cred in the goth scene) and Jeff, a former worshipper of Baal who has since moved on to fouler pastures.
All-in-all Steve: portrait of a minion is probably the sweetest movies we've ever made, using one of the most horrific subjects.
Awesome!
Also, check out Ryan's writeups for our workshop movies, too!
Cast
Announcer: Patrick Sherman
Steve: Brian Hutchins
Hittite worshipper: Doug Staudt
Jeff: Joe Schwartz
Recruitee: Jacynda Scott
Mary: Lisa Wright-Thiroux
Dollar Bill Tosser: K.C. Keely Caldvan
Crew
Produced and Written by Edward Martin III and Ryan K. Johnson
Directed by Edward Martin III
Asst. Director: Lisa Sherman
Photographed and edited by Ryan K. Johnson
Lighting: Joe Schwartz
Sound by Edward Martin III
Intern: Umberto Lenzi