Truly a rare species…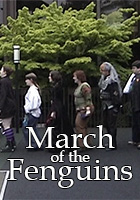 Every year at Norwescon, I wonder if we're going to pull it off, if we're going to manage to make a movie that is anywhere near as fun or as interesting as before, or if we're going to fall flat on our faces. And every year, I'm just blown away by the results. More and more.
As we started this year off, Ryan and I talked about some possibilities for parody. The obvious frontrunners were King Kong and The Lion, the Witch, and the Wardrobe. I looked a bit askance at the possibility of parodying LWW, mostly because I wasn't very fond of it, and King Kong, well, if we had one monkey-suit, we would have done it. Or, we would have recreated Roger Patterson's famous adventure where he discovers a bigfoot — except our footage would have been better.
Without a monkey-suit, however, our random brainstorming in the workshop produced several tasty candidates. Although I lobbied for Snakes at a Con (hm, maybe next year), we quickly settled into March of the Fanboys (which was later changed to March of the Fenguins because there were girl fans, too, plus knowing that "fen" is plural for "fan" is very geeky, plus "fenguins" was closer to "penguins" than "fanboy" was.) which proved to be a spectacular hit.
As we swore last year, we found a way to shoot as much of this as possible in the meeting room the convention gave us. That was cool. We also arranged to have a monitor, so people could watch through the camera. We picked up some molting shots, some grooming shots, and a feeding scene.
After that, we took everybody out to the pool area to shoot a few scenes in the pool and, not much to my surprise, we were joined by even more people once we were outside.
Yes, the secret, it seems, to doing a popular Norwescon movie workshop is to get outside!
Once out there, we got some great marching shots of "fenguins", and a juvenile fenguin diving for his food and some beautiful nature shots of icebergs (played by scraps of styofoam cup). We also managed to get some great footage of "fenguins" having had their pelts stripped and some totally bonus footage of technicians checking the hot tub water, which, as any good workshop will teach you, we totally bullshitted a great line to add to that footage.
We were very good this year, and completed shooting within our two-hour window. We also completed editing in plenty of time to get the computer to the editing workshop, and we had a very successful editing workshop. Overall, everything went swimmingly!
Ryan Johnson, on his own site, has a great write-up for all our Norwescon movies and it's really very nicely done, including screenshots and everything, so without further ado, go visit Ryan's site!
See you next year!
Cast
Narrator: Leopoldo Mariño (IMDb listing)
Baby Feeder: Mike Reddig
Baby: Griffin Reddig
Swimming Fenguin: Theo Hill
Boot Hill Guy: Nathanial Woodbury
Berating Parent: Fern Francavillo
Kelly: Kelly __________
Crew