Zombies were people, too!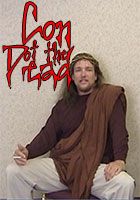 This is one fun movie! Every year at Norwescon, we do the Let's Make a Movie! workshop and this year, some of the biggest movies were all about people coming back from the dead and cannibalism ("…zombies are forever," claimed Ryan during the planning session). So naturally, we found ourselves drawn to covering this previously unexplored territory.
Once again, we skirted the terrifying edge of parody and outrageousness with some really edgy stuff, much of which is certainly going to get us into trouble all over again every time we show it.
By all means, if you're interested in this or other movies we've made at Norwescon, visit Ryan's Norwescon movies page!
If you want to be in one of our movies, or help with one, just find the workshop at the next Norwescon. Seems like we usually have our first workshop Friday morning.
Cast
Redneck Wife: Debbie Lentz
Redneck Husband: Daniel Kaufman
Zombagra Voiceover: Katrina Martin
Hall Zombies: Leopoldo Marino, Theo Hill, ?
Registration Volunteer: ?
Zombie Keanu Reeves: Leopoldo Marino
Zombie Translator: Alexandra Paris
Zombie Activists: Theo Hill, ?, …
Zombie Pamphleter: Thaddeus ?
Scared Woman: Laurel Parshall
Pamphlet Reader: Sera Hartman
Steve Irwin: ?
Pool Zombies: Chris Anderson, Leopoldo Marino, David Tackett, Theo Hill, ?, …
Kurt Cobain fan: ?
Zombie Kurt Cobain: David Tackett
Bus Driver: Mark Dranek
Charlton Heston: David Tackett
Charlton Heston Wrangler: Ron ?
Zombie Soylent Green Fans: Theo Hill, Chelsea Gant, ?
Jesus Christ: Mike Reddig
Homeless Zombie: ?
Cafe Zombies: Theo Hill, Thaddeus Wilson, Leopoldo Marino, Chelsea Gant
Waitress: ?
Crew
Producers: Ryan K. Johnson and Brian D. Oberquell and Edward Martin III
Writers: Ryan K. Johnson and Brian D. Oberquell and Edward Martin III
Director: Edward Martin III
Cinematographer: Ryan K. Johnson
Assistant Directors: Ryan K. Johnson and Leopoldo Marino
Post-Production and Audio: Edward Martin III
Makeup: Lori Hillard
Props: David Tackett and Brian D. Oberquell and Janet Borkowski
Lighting/Electrical: Tom Lentz