Safety for us geeks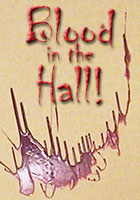 For every workshop, we usually have a pocketful of ideas handy, just in case people draw up blanks. In this case, we ended up using a variation of one, and that was a Safety Video Gone Horribly Wrong. Actually any decently made safety video, as we all know, is a map of how things can go Horribly Wrong, so in this case, we only had to figure out what "safety rules" applied to a convention and what could go Horribly Wrong with them.
You would think we'd run out of ideas, but we ended up with a lot!
If you happen across the standalone DVD of this movie, you'll find that one of the extras is a list of other warnings we avoided filming. Well, some of them, anyway.
Blood in the Hall! explores what can happen if you ignore such basic safety rules as:
Arrive early, for best parking
Make sure you're at the right hotel
Never try to offer a fake ID
Always remember to 'double-tap"
Always peacebond weapons
Never sleep in the halls
Never keep exotic animals in your room
Always turn the lights on
Don't overstuff a room
Don't steal from dealers
Don't cut in line at Registration
And, of course, there's always the "6-2-1 rule."
We dug deeply into the tropes of the Safety Video by repeatedly showing the same "horrible ending" for each mistake — in this case a splash of blood against a wall and a heart rendition of the Wilhelm Scream.
This year, we did something unusual by offering "internships." In the context of the workshop, an internship meant you got to join us as we did all the behind-the-scenes stuff, and learn exactly what goes into this workshop. In exchange for this valuable educational opportunity, you commit to making a movie for the next Norwescon. This year, we had two interns, Amanda Kundert and Julie Andrijeski. We'll have to see if they come through with their movies.
As with all movies we make for our "Let's Make a Movie!" workshop, Blood in the Hall! was shot in two hours and edited in about six, with a little extra homework here and there.
Learn more about the movie by checking out Ryan's writeup on it!
Cast
Narrator: Mark Dranek
Bible Study Members: Laurel Parshall, Larry Lewis, Jesse Brocksmith
Hallway Sleeper: Don Lake
Carpet Scraper: Ron Lake
6-2-1 Drunk: Daniel Kaufman
Severed Arm: Edward Martin III
Clueless Maid Tippers: Janet Borkowski & Helga_____________
Line Cutter: Erica________
Room Stuffer: Brian Hunt
Japanese Cleaning Woman: Deborah Olson
Peacebonder: Dan Murphy
Chopped Arm: Dana Halfhill
Passed Out Drunk: Chelsea Gant
Slapping Girl: Megan
Slapper's Saucy Suitor: ______________
Bartender: Dave Tackett
5B Security Victim: Lori Hillard
Crew
Produced by Edward Martin III, Brian D. Oberquell, Eric Morgret and Ryan K. Johnson
Directed by Edward Martin III
Written by Edward Martin III, Ryan K. Johnson & the cast
Interns: Amanda Kundert and Julie Andrijeski
Photographed by Ryan K. Johnson
Lighting: Ian
Edited by Ryan K. Johnson
Sound and DVD authoring by Edward Martin III