Journalists uncovering mischief!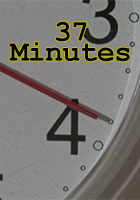 Unlike many of our movies, the plot of "37 Minutes" seemed to come together very quickly.
Most people have heard of the new drug "TQL-Alpha," but few realize the world of lies and corruption hiding behind the curtains. While the purveyors of TQL-Alpha promise the drug gives users super powers such as flying, high speed, super strength, and force fields, the reality of the situation falls far, far short of the fantasy.
Our investigative reporter, Sorely Mayfair uncovers the sordid brutal truth.
As with all movies we make for our "Let's Make a Movie!" workshop, 37 Minutes was shot in two hours and edited in about six, with a little extra homework here and there.
Learn more about the movie by checking out Ryan's writeup on it!
Cast
Sorely Mayfair: David Tackett
Super Speed Girl: Dana Halfhill
Super Strength Girl: Isabella Banks
Flying Girl: Erika Kanmeyer
Forcefield Girl: Tina Anderson
Doctor Marcus Welby: Jesse Brocksmith
Regeneration Failure Girl: Madeline Virtue
Regeneration Failure Girl's Arm: Shandra Bauer
Mayfair's Intern: Thomas Gray
Inventor of TQL-Alpha: Mark Reddig
Selfie Girl: Anita Taylor
Informant: Ronald Lake
Informant's Voice: Virgil Alexander Ulbricht-Paulus
TQL-Alpha Lawyers: C. Helga D., Laurel Parshall, Cy Paulus, Isy Ulbricht
Force Field Victim #1: Liz Dahlstrom
Force Field Victim #2: Dqniel Kaufman
Walter White: Mark Virtue
Crew
Produced by Edward Martin III, Brian D. Oberquell, Eric Morgret, and Ryan K. Johnson
Directed by Edward Martin III
Written by Edward Martin III and Ryan K. Johnson
Photographed and edited by Ryan K. Johnson
Lights: Mark Virtue
Sound: Doug Staudt
Interns: Mark Virtue, Madeline Virtue, Thomas W. Gray