Mr. Bauer must uncover a deadly plot.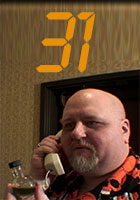 We were afraid we'd be tasked to doing a parody of "Cloverfield," but luck and a fine tailwind were with us and instead, at Norwescon, we ended up making more of a parody of "24," which was a bit of a challenge, as I'd never seen an episode.
In 31, Jack Bauer's brother Eddie has to be the Problem Solver, as a group of evil Gamers threaten to taint the water supply at a convention, turning everyone into gamers.
As most people have already complained, there is gratuitous violence, mayhem, and of course, death. We couldn't decide as we were making the movie, in fact, which ending to use, so we shot both options and figured the actual ending would come as a surprise to the crew when we showed it.
As with all movies we make for our "Let's Make a Movie!" workshop, 31 was shot in two hours and edited in about six, with a little extra homework here and there.
Learn more about the movie by checking out Ryan's writeup on it!
Cast
Director Smith: Daniel Kaufman
Shifty: Mark Dranek
The Dungeonmaster: Brian Hunt
Female Technician: Kate Waterous
Agent Eddie Bauer: Larry W. Lewis
Agent Jones: Theo Hill
Illegal Alien: Dana Halfhill
Tortured Gamer: David Tackett
Crew
Writer/Director: Edward Martin III (IMDB listing)
Produced by Edward Martin III, Brian D. Oberquell, Eric Morgret and Ryan K. Johnson
Directed by Edward Martin III
Written by Edward Martin III, Brian D. Oberquell and Ryan K. Johnson
Photographed by Ryan K. Johnson
Editing and sound by Edward Martin III