An epic tale of courageous adventure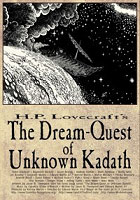 "Three times Randolph Carter dreamed of the marvelous city, and three times was he snatched away while still he paused on the high terrace above it."
Thus begins H. P. Lovecraft's epic tale of the courageous dreamer Randolph Carter and his search for the mystical sunset city by petitioning the gods of Kadath. During his journey, he travels deep into the world of dream, to the edge of the world, to the moon and back, and to the heights and depths of human and… inhuman experience.
Dream-Quest uses an unusual narrative style. Rather than live action (as if we could afford that!) or full motion animation, we're using a technique sorta' like what we've used most recently for The Testament of Tom Jacoby, a motion-still sequencing. We have no affectionate name for this technique (we're currently describing it as "sorta' like what we did with Jacoby, but even better, with some animation thrown in"), nor can we even think of a really good example off the top of our heads, but we hope you'll like the result. Our image source is Jason Thompson's unbelievable comic book adaptation, published by Mockman Press.
In addition to the 100-minute feature length animated fantasy adventure The Dream-Quest of Unknown Kadath, this DVD also features:
Remastered Dolby Digital sound
Many newly animated scenes
Alternate music-only audio track
Bonus short movie: The Call of Cthulhu
Bonus short movie: The Testament of Tom Jacoby
Making-of slideshow
Teasers and trailers for The Dream-Quest of Unknown Kadath
Teasers for Flesh of my Flesh
DVD-ROM content
Now shipping!
Trailer
Cast
Randolph Carter: Toren McBoren MacBin (aka Toren Atkinson) (IMDB listing)
Bragging Ghoul, Dylath-Leen Bar Mate 3, Oriab Villager 3: Toren McBoren MacBin (aka Toren Atkinson) (IMDB listing)
Dylath-Leen Bar Mate 1, Ghoul #4, Inganok Tavern Goer 4, Lava Gatherer 1: Raymond Beckett
Black Galley Cook, Hungry Ghoul, Inganok Navigator, Nasht, Oriab Lookout: Jason Brooks
Inganok Villager, Kaman-Thah, Quarry Man 2, Scared Bar Mate #2, Thran Sailor 3, Vivisection Victim: Andrew Hamlin
Grandson Kitty, Inganok Sailor 1, Inganok Singer, Thran Cat: Sheri Hinshaw
Inganok Sailor 2, Old Zoog, Ruby Guilder 3, Zoog Rabblerouser, Inganok Tavern Goer 1, Curious Ghoul, Chief Ghoul: Marky Kelly
Inganok Sailor 4, King Kuranes, Ruby Guilder 2, Third Ghoul, Warning Ghoul: Lev Koszegi
Dylath-Leen Innkeeper, Inganok Captain: Leopoldo Marino
Oriab Innkeeper, Second Ghoul: Edward Martin III
Hostage-Minded Cat, Inganok Sailor 3, Kind Farmer, Zoog 3: Katrina Martin
Inganok Tavern Goer 2, Wine Ghoul: Martin McClure
Celephais Chief Cat, Inganok Tavern Goer 3, Zoog 2: Enrika Newbury
Atal, Oriab Sailor, Ruby Ghoul #1, Thran Sailor 1: Andrew Nicoll
Dylath-Leen Bar Mate #5, First Ghoul, Oriab Merchant: David Palmer
Old Lava Gatherer, Richard Upton Pickman, Ruby Guilder 1, Thran Sailor 2: Michael Pearce
Cat Leader: Piph
Celephais High Priest, Celephais Soldier, Dylath-Leen Bar Mate 2, Oriab Villager 1, Ruby Ghoul #2: Rand
Zoog 1: Silven Read
Thran Sailor 4: Tinessa Russell
Dylath-Leen Bar Mate #4, Narrator, Quarry Man 1, Scared Bar Mate #1: Eric Stenson
Merchant: Dwight Stone
Dylath-Leen Barbarian, Ghoul #5, Quarry Man 4, Thran Sentry: Jeffery Tubbs
Nyarlathotep: Kate Webb
Caravan Master, Oriab Captain, Oriab Villager 2, Quarry Man 3: Marc Wells
Crew
Directed by Edward Martin III
Original Artwork by Jason B. Thompson from his comic "H.P. Lovecraft's The Dream-Quest of Unknown Kadath" published by Mock Man Press.
Music by Cyoakha Grace
Script by Jason B. Thompson and Edward Martin III
Produced by Katrina Martin
Based on the novel The Dream-Quest of Unknown Kadath by H. P. Lovecraft
Original Character & Set Design: Jason B. Thompson
Animation Supervisor: Edward Martin III
Principal Animation: Edward Martin III
Assistant Animators: Saif Ansari, Mike Biel, Sven Bonnichsen, Dave Candage, Alan Claytor, James J. Dominguez, Stephanie Dunlap, Lyndsey Fink, Andrew Haley, Paul Henry, Greg Higgins, Christine Holmes, Daniel R. Johnson, Joseph Kentspeth, Luciano de Maria, Katrina Martin, Kathleen Mattson, Stacey Moore, William Morris (Cyberhorn the Dragon), Craig Mullins, Pieter Paulsen, Julietteanne Petrusek, Thomas Ray, Jason Rogers, Eric Scheur, Jacob Skaaning, Christopher Alan Slater, Matthew W. Stevens, Dwight Stone, Jed Sullivan, Julie Tillinghast, Tony "Ng" Wamsley, Van Wanless, Joshua Wentz
Music Supervisor: Cyoakha Grace O'Manion, O'Manion Music Company
Original Music Composed by: Cyoakha Grace O'Manion (except where noted)
Additional Music/Co-Composer: Mark Brown/Equinoxe
Musical Tech Slave: Krystov Bock
Shantak Vocalizations: Cyoakha Grace O'Manion
Cat Vocalizations: T. S. Eliot, Orange Pekoe, Epson
Ghoul Vocalizations: Lev Koszegi, Edward Martin III, Dwight Stone
Zoog Vocalizations: Cyoakha Grace O'Manion
Art Scans: Enrika Newbury
Post-Production: Edward Martin III
Sound Engineer: Lev Koszegi
Principal Foley: Edward Martin III
Foley Research: Katrina Martin, Andy Montgomery
Foley Assistance: James J. Dominguez, Sheri Hinshaw, Katrina Martin, Dwight Stone
System Administration: Jason Brooks
Title Sequences: Edward Martin III
DVD Design: Edward Martin III
Legal Counsel: Martitia Dell
Music Credits
"Trust"/Opening Loop & prelude Cyoakha Grace O'Manion and Mark Brown/Equinoxe and Land of the Blind Originally "Trust" by Land of the Blind from Ordinary Magic Original Violin: Aryeh Frankfurter Additional Violin/Kadath: Alison Bailey Montage by Cyoakha Grace O'Manion
"The City Theme (The Sunset City)" Cyoakha Grace O'Manion Based on two musical works with bass and keys by Scott Kungha Dregsen Warped by Cyoakha Grace O'Manion
"Ulthar Theme" Cyoakha Grace O'Manion Electric guitar: Gywnn Adams
"Dylath-Leen Theme" Cyoakha Grace O'Manion Original bed: William Blum Transformations/Additions/Alterations: Cyoakha Grace O'Manion
"SpaceSlaveShip" Cyoakha Grace O'Manion Background piece: "To-Ka-Ge" and "Passiflora" and "Through Plexiglas Sheets Ov Harmony" recorded Live at Drift Catalyst stage, Burning Man 2002 (c) Tiffany Lee Brown and Joshua Camozzi Milligan Guitars, Loops, Singing Bowl, Theremin, Etc.: Joshua Camozzi Milligan Voices, Crumpling Parchment, Bells: Tiffany Lee Brown
"And If I Fall" Cyoakha Grace O'Manion and Mark Brown/Equinoxe Based on "Ingeous" by Equinoxe from Worlds Beyond Language Transformations/Additions/Alterations: Cyoakha Grace O'Manion
"Catacomb Creature Crawl" Cyoakha Grace O'Manion and Mark Brown/Equinoxe Based on "Golden Domes" by Equinoxe from Worlds Beyond Language Transformations/Additions/Alterations: Cyoakha Grace O'Manion
"Enchanted Forest Music"Cyoakha Grace O'Manion and "Slow Thoughts" by Akash
"Sailing to Celephais" Cyoakha Grace O'Manion and Mark Brown/Equinoxe Main groove/beaten autoharp detuned: Cyoakha Grace O'Manion Layers include "Embroidered Galaxies", "Anyone stop to document", and "Depths of Mahogany" by Equinoxe from Worlds Beyond Language Transformations/Additions/Alterations: Cyoakha Grace O'Manion
"City of Celephais" Cyoakha Grace O'Manion and Mark Brown/Equinoxe, Based on "PerMutations", from Worlds Beyond Language Transformations/Additions/Alterations: Cyoakha Grace O'Manion
"Vile Flutes" Cyoakha Grace O'Manion Original Bed: William Blum Original flute: Melo Cady, Land of the Blind Additional flute: Cyoakha Grace O'Manion
"Battle Themes" Cyoakha Grace O'Manion Electric guitar: Gwynn Adams
"Room of the Dead" Cyoakha Grace O'Manion "Nyack" by Tiffany Lee Brown from Brainwarmer, Corporate Collapse Records "Ahmet's Circus" and "Ahmet's Circus Reprise / The Enumerators" by John LaSala
"Giant Battles" montage includes "Baruhula", from City of Thlath by Equinoxe, "olympus mons at perihelion", "bearing ominous forecasts", "mantra of the colonies", from Red Planet by Equinoxe, Tony Boughen & Cyoakha Grace O'Manion
"Final Ride" Cyoakha Grace O'Manion "Slow Thoughts and "Spiritual" by Akash "Nyack" by Tiffany Lee Brown from Brainwarmer, Corporate Collapse Records
Miscellaneous Dulcimer Pieces Krystov
"Monster" or "A Little More" Cyoakha Grace O'Manion, Tony Boughen, Krystov, Land of the Blind from Land of the Blind's Ordinary Magic