The real secret is the fertilizer.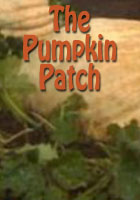 For The Pumpkin Patch, Hellbender Media/Guerrilla Productions joined forces with Media FX to help local celebrity Matt Roloff (Little People, Big World) realize his dream of producing a movie based on a scary story he tells of a pumpkin farmer.
The Pumpkin Patch was shot over three days, with two days of actor shooting, and a third day of "campfire" shooting for the framing sequence. It was technically very tricky, especially the first two days, as filming occurred all around Roloff Farms, and it was during a time when the farm was open for customers. So, whenever the filming was visible to guests, a crowd eventually gathered to watch — especially if the Director was present.
Another peculiar aspect to the filming was that many of the HBM/MFX crew were wired for sound and constantly followed by TLC's cameras. Logistically, this was pretty much the opposite dynamic of a usual "making of" crew. However, other than social awkwardness, there wasn't much of an issue about this.
Despite a late night or two, we got it all in the can, in time and under budget.
The project's currently in the final pieces of editing, but the episodes of Little People, Big World featuring the making of the movie are a part of the show.
Cast
Farmer: Tracey Conklin
Farmer's Wife: Laurie Slater
Demanding Visitor: Jeremy Roloff
Farmer's Son: Levi Pinyard
Crew
Producer/Director/Story: Matt Roloff
Assistant Director: Edward Martin III
Script/Script Supervisor: Richard Mann
Cinematographer: Ryan K. Johnson
Lighting Director/Technical Director: Lisa Sherman
Second Camera: Erik Mayne
Second Camera: Sean Strauss
Second Camera/Steadicam: Mark Vetanen
Key Grip: Scott Walters
Pyrotechnics: Kai Shelton
Storyboards: Rick Marcks
Editing: Lisa Sherman
Crew: Barclay Albright, Michael Gonzales, Michael Harbor, Emily Sisken, Michael Smith, Justin Stoker, Greg Stoker, Amy Tarlow, Chelsea __________, Sam Thompson
Craft Services: Paige Gyldersleve, Katrina Martin, Lisa Sherman, Elizabeth West