Promises are important.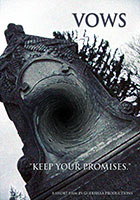 This is a short, freaky, and very spooky tale of revenge based on my short story Vows.
It just goes to show you that whenever you make a deal with a supernatural creature — no matter how good the sex is — you need to read the fine print!
Cast
Marie: Charisse Renee
Paul: Caedmon
Crew
Writer/Director: Edward Martin III (IMDB listing)
Producer: Katrina L. Martin (IMDB listing)
Makeup: Charisse Renee
Location Assistance: Katrina L. Martin (IMDB listing), Nicole Vanderheyden