Too much fear can destroy even a shadow.
The H. P. Lovecraft Film Festival is by far our favorite film festival. Chairman Andrew Migliore has held this crazy adventure together for more than a decade and our gratitude to him for this and all his help and encouragement might best be exhibited in this bumper we're making for him (oh, but we haven't told him yet).
Shadowdog was our first attempt to record sound separately from video and sync everything in post. Fortunately, due to the nature of the movie, sync isn't hypercritical. In fact, the quality of the video isn't even that hypercritical and the whole thing was actually shot using a decrepit VHS camera. But really, do you think it would be a better movie if it were in high-definition?
I didn't think so.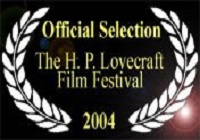 Cast
Barker: Edward Martin III
Crew
Written and Directed: Edward Martin III