The world may be lost, but you aren't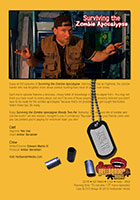 Our resident Zombie Hunting expert Highmile brings you a collection of tips and tricks for surviving the upcoming zombie apocalypse.
Find many of Highmile's tips in handy blood-spatter-proof card form in our Zombie Tips Card Deck, which is not only a perfectly good deck of cards, but each card features a unique tip for surviving the Zombie Apocalypse — it's a Zombie Survival Deck in a box!
Please visit the Hellbender Media store for a wide variety of zombie-related goodies that we've made just for you!
Trailer
Cast
Highmile: Rex Irae
Charli: Amber Bariaktari
Crew
Writer/Director: Edward Martin III
Producer: Amber Bariaktari
Episode List