For when there are no words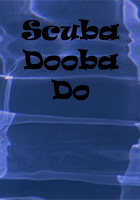 Welcome to the first three episodes of our web series Scuba Dooba Doo — a collection of underwater tricks you never expected to need!
Scuba Dooba Doo was shot on location on the island of Roatan (just off-shore from CocoView Resort), off the coast of Honduras. Mischievous filmmaker Edward Martin III got together with Ron Richardson, world famous filmmaker and Crusher Of Tiny Worlds in the Delta Air Safety video, and together, they came up with this collection of weird signs. Note that these are not too far off from the kinds of signs Edward normally uses.
Got more suggestions for fun additions to Scuba Dooba Doo? Please let us know in the comments — all contributions receive screen credit and "mad props" (as the dry-land kids say it) on our channel!
Episode List
Episode 1: Signs 1-3
Episode 2: Signs 4-6
Episode 3: Signs 7-9
Cast
Player 1: Edward Martin III
Crew
Writer/Director/Editor: Edward Martin III
Cinematographer: Ron Richardson