Secrets from before the Bible!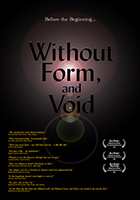 Watch the version no one else wants you to see!
BANNED by the secular media!
You may have thought you've seen the ultimate in profound religious programming, but Without Form, and Void brings you before the Creation, and reveals everything that leads up to the most significant event in the history of the Universe itself.
And more than that: Without Form, and Void's shocking — and painfully true — ending will remain with you for as long as you live.
Crew