Edited by J. Thayer McKinney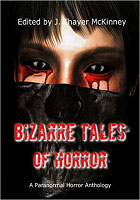 A collection of short horror stories written by some of the very best horror writers. Be prepared to be frightened as you read these stories.
The stories are awesome… a great book to add to any collection if you love horror! – Amazon review
Bizarre Tales of Horror: A Paranormal Horror Anthology contains the stories Lowercase G (but still worth keeping an eye on) and Shock Troops reprinted from Close Your Eyes: Tales from the Blinkspace.